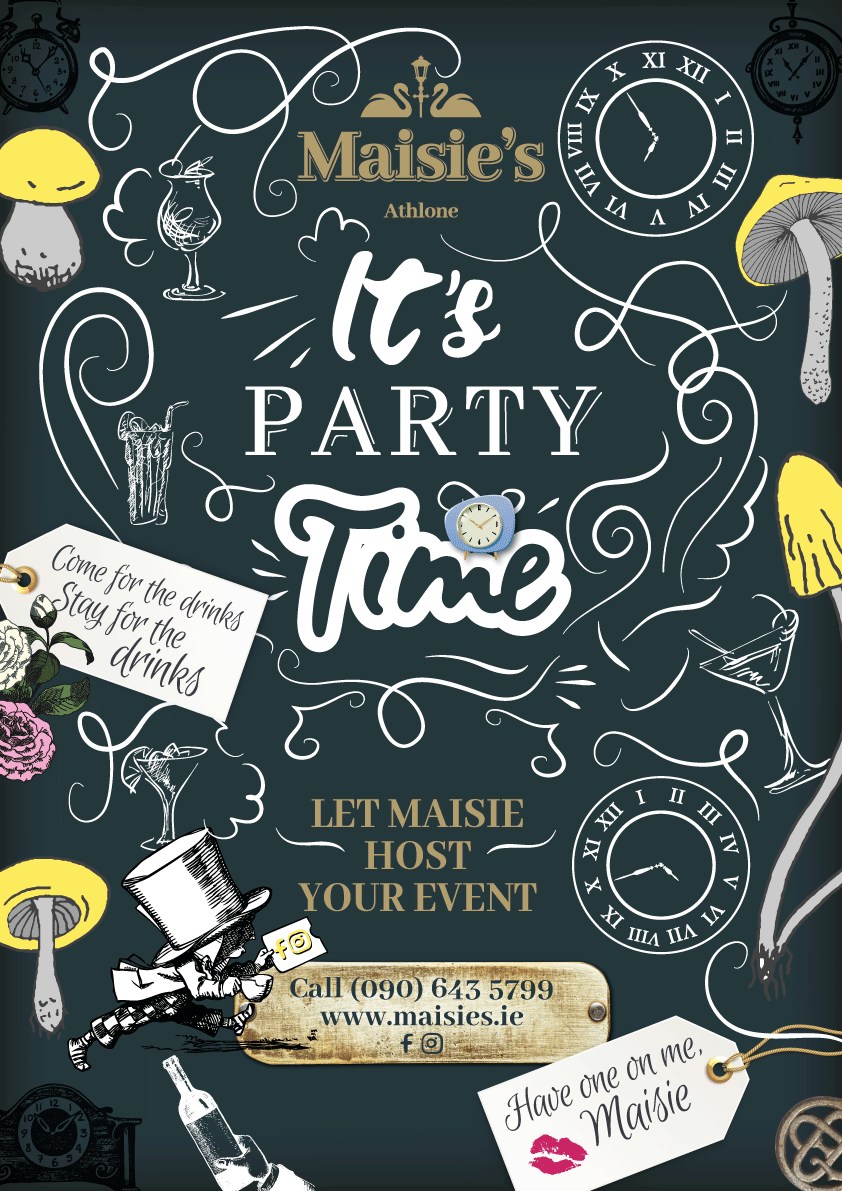 Booking enquires!
Join us for fun & frolics in my fabulous bar, please fill in the form below.
Had a meal here on Thursday Had a meal here on Thursday last. Six of us at the table. One member of our party just wanted a main course as wasn't hungry but because the other parties were ordering from the set menu this person was forced to spend €39(set menu price) as both menus would not be accommodated at the same table. Because of the failure to accommodate for this I would struggle to return. Food was good service should have been quicker.(ordered at about 7.15 got deserts about 9). Prices on the high side, more comparable with Dublin.

Average restaurant Myself and my wife popped in for a quick lunch. We had a chowder and a pulled pork sandwich, both of which were fine. It was an average meal. The bill annoyed me as a 10% service charge was added. I always add something as a tip and when I saw the bill, I was paying by card and asked the waitress to round the bill up by an amount which was just over 10%, I then saw that the 10% charge was included and to be fair the waitress asked did I want to leave my tip off, I didn't, so I ended up paying over 20%. This habit really bugs me.

The new Clermont Restaurant We recently tried out the New Clermont Restaurant, with our friends. We had a drink in the bar while we waited for our table. The young guy that served us our drinks was so welcoming and friendly. We were shown to our table in the restaurant, and the girl went through the menu in detail explaining everything, very helpful. Our meal was beautiful from starters, main course and deserts. The decor throughout is beautiful. Overall a very good experience, looking forward to our next night out in The Clermont.

If you like to just eat beef, this is the place for you... I have visited The Clermont on a number of occasions, always to give it one more chance. I think they have had it now. The decor of this restaurant is absolutely stunning and contrary to other reviews, we found the staff, to be both friendly and attentive. But, we went to The Clermont, to eat. If you like beef, you should definitely go there. My husband eats beef very rarely and I am a vegetarian, so we found the menu very limited. Yes, there was Fish and Chips on the menu and some chicken but if he wanted fish and chips, he would go to Mullins a few doors away. I had the Vegetarian Ragù which was very average to say the least. I also had a side of chunky chips that I had to send back as they were not cooked properly. I was really surprised that the chef did not notice that white slices of semi cooked potatoes were being served. When we were there, we also had a look at The Chairmans menu. This is also predominantly beef based, so we will not be going there. As a vegetarian, I realise that unless it is a specialist vegetarian restaurant, the restaurant will not be just catering for me. I do believe, however, with the rise of flexitarianism, restaurants need to be offering more non meat dishes. A choice between (a poor) vegetarian ragù and gnocchi just does not cut it. But, of course, if you fancy a steak - go for it.

Needs Service Improvements I have visited this location once for a family event. Sadly I won't repeat this. Brought family members here for Sunday lunch, as I have done many times when occupied by previous owners.

I am taking into consideration the teething problems as new staff learn where things are, but hey the customers are at the tables that's all that's important. What I experienced was the most disorganised display of table service I have ever witnessed. The number of inexperienced floor team is simply too concentrated and there is no leader.
Too much to rant on for one discrete experience so summarised below.
[This is feedback for management not individual staff members]

Stop
Staff walking through restaurant with open laptops, and setting down on customer seating to work. This is our dining experience, not your office.
The insane process where food is carried down from kitchen area on a huge tray and both nowhere to set it down, and staff to relieve the waiter of the dishes. This for me was the most telling of what was going on here, great effort put into decor, but nobody has checked how this current space can serve food effectively. Terrible lack of process.
Collecting glasses from table when not finished, please help the staff understand how little or often this is needed.
Bringing out the soup and main course at same time. No apology as simply inexperienced staff did not suspect anything wrong with this.
Service charge. Increase your dish prices if need be, as the food is tasty, but your service is extremely under par.

Start
Hiring an experienced staff member that can build a team into a min level of organisation.
Ensuring proper table management that parties of people can sit together, joining large round tables together does NOT count especially when restaurant half full.
Following up after each course for the next, ensure customers don't have to chase down your staff for tea/coffee/desserts. Staff not confident in approaching tables to do this.
Team needs to communicate - Your staff all have mics, but they don't communicate effectively. This is evident when we have to ask for service repeatedly.
Sunday lunches have a certain min expectation nationally. I'm happy to eat gnocchi on a Sunday, but you need a menu to appeal for folks who require more traditional dining.
Portion sizes are particularly small across the whole menu, this is quite noticeable and is sadly unnecessary on sides.

Continue
To deliver nice tasty dishes.
Invest in the local area.

Terrible - service, process and management of same.
Average - tasty, but dishes small and menus extremely limited.
Rating - Poor

Food was inedible The food is overpriced. No Smirnoff ice. Tiny portions. The beef sandwich I got was freezing I had to send it back so my partner ate his ribs ( 3 bites and it was gone it was that small ) while I was there with just chips and mayo. No garlic dip?? The food came back again but it was disgusting. This time round they had put the tiniest amount of crispy onions on it that wasn't on the first one that was supposed to be on it it was almost like an insult. The staff are lovely I feel sorry for them I don't think the table beside us were happy either. The nice lady host didn't charge for the wine as a sorry what else could she do. I read the reviews before going but I still wanted to give it a chance and was excited however I could never return. They don't seem to want to improve judging by the other reviews. I left starving after paying 35 Euro so we went to rocksalt cafe and thankfully they saved the day.
Made with love by