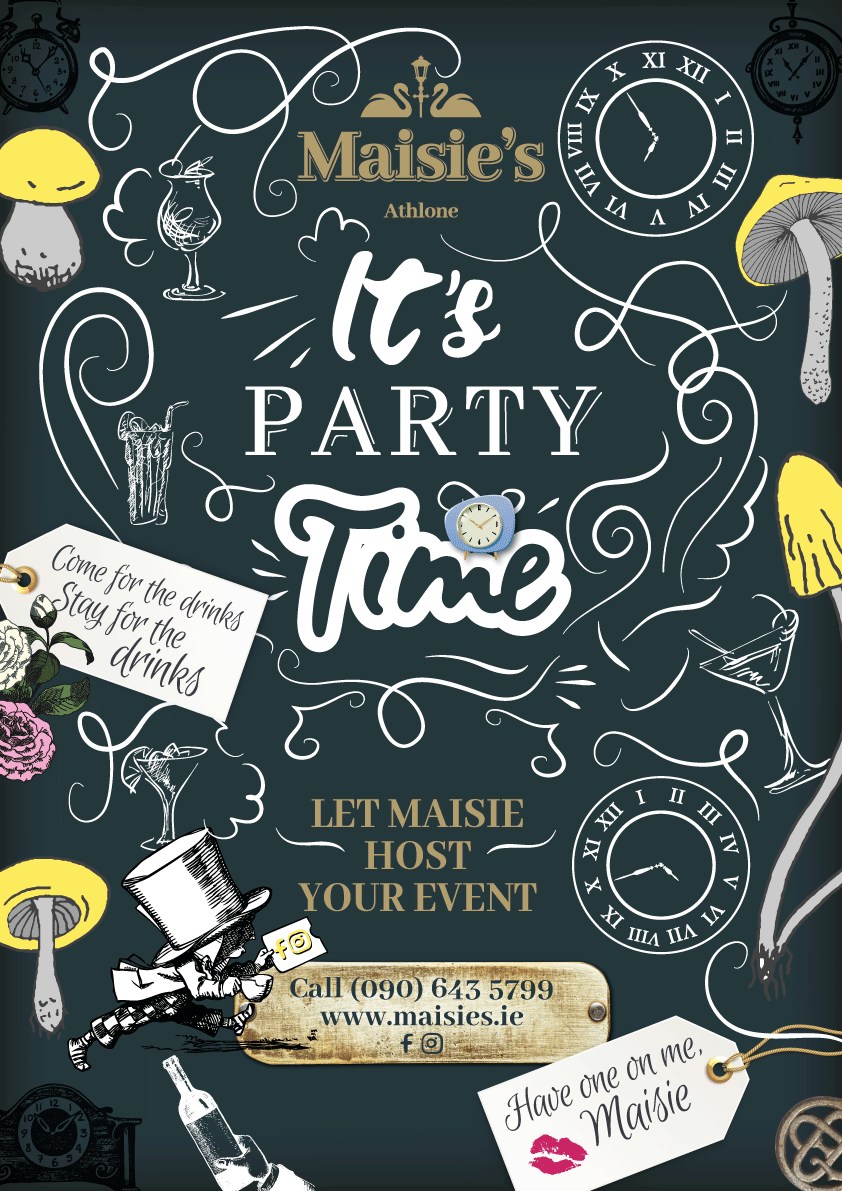 Booking enquires!
Join us for fun & frolics in my fabulous bar, please fill in the form below.
The meat is excellent If you want a safe place to get out of the house and feel normal again - this is right for that. In simple terms the are getting it right and seem very aware of peoples fears. Good job to the team there. I must say the meat is excellent. Worth the price and a nice place to sit. Will be back!

Beautiful surroundings - food needs to improve Made a last minute booking for Saturday evening.....restaurant is decorated beautifully, no doubt about it. We were brought to table but I could not say we were greeted warmly by what seemed the senior waitress. The menu was more expensive than I expected for Blackrock but I would not have minded if food had matched the price. We had seafood chowder, it needed better mix of fish, crab claws, think the portion was 7, not enough for price & bruschetta which was tasty but too expensive @ €10 ..... like seriously!
Followed by carbonara was very poor, couldnt eat it. Steak pizza which I think cost €18 but I had to look for pieces of beef on it & there was too much coriander. Fish & chips was fine, but hey can u go wrong cooking that. Overall we said we were glad we tried it but we wouldnt rush up again.....well not until they introduce an early bird for diners willing to eat at 5 or 6pm.

If you like to just eat beef, this is the place for you... I have visited The Clermont on a number of occasions, always to give it one more chance. I think they have had it now. The decor of this restaurant is absolutely stunning and contrary to other reviews, we found the staff, to be both friendly and attentive. But, we went to The Clermont, to eat. If you like beef, you should definitely go there. My husband eats beef very rarely and I am a vegetarian, so we found the menu very limited. Yes, there was Fish and Chips on the menu and some chicken but if he wanted fish and chips, he would go to Mullins a few doors away. I had the Vegetarian Ragù which was very average to say the least. I also had a side of chunky chips that I had to send back as they were not cooked properly. I was really surprised that the chef did not notice that white slices of semi cooked potatoes were being served. When we were there, we also had a look at The Chairmans menu. This is also predominantly beef based, so we will not be going there. As a vegetarian, I realise that unless it is a specialist vegetarian restaurant, the restaurant will not be just catering for me. I do believe, however, with the rise of flexitarianism, restaurants need to be offering more non meat dishes. A choice between (a poor) vegetarian ragù and gnocchi just does not cut it. But, of course, if you fancy a steak - go for it.

The Chairman's Room - simply amazing My wife and I visited the Chairman's Room upstairs in the Clermont last Saturday and it was simply amazing. This is basically a Michelin Star restaurant that no one has heard of. It seems primarily focused on beef which comes from the owner's farm. Let me tell you it's well worth a try. A rich amuse Bouche was followed by addictive sweet warm bread, simple and light starters followed by the main event which was amazing! The service is great with professional staff who know their wine's and gave us an excellent recommendation. 5 stars all the way.

Very poor evening meal I have enjoyed 4 visits to the Clermont at lunchtime. The menu isn't extensive at lunchtime but the food my friends and I ordered was very good. The interior is very nice, the seating comfortable and the service ok. I visited last night with friends for an evening 'dinner'. Two of us ordered spaghetti carbonara, which was practically inedible. It had no flavour at all and wasn't even hot, when served. We didn't make a fuss, but we won't return in the evening again. Thankfully there are other much better options in Ireland's tidiest small town

Halloweentourist

2/21/2020

All style but poor menu and food Decided to try the new Clermont recently and having waited to allow teething problems to fade.
The premises are attractive and the staff polite but the menu is very limited for all courses. Our mains had a couple of issues, with request for no dressing/sauce ignored and steak well below the well done requested. The person who ordered steak also said it was tough and stringy - it didn't even look like a striploin cut. Pork belly was cold. No veg seems to be standard unless ordered as a side and even then the char roasted broccoli was laced with chilli which we were not warned about - nobody ate it. The accompanying chips totalled 8 chips!
Overpriced for sure when you see what little you get - particularly as a main course.
If you want cocktails and a pizza then head for the Clermont but if you want a decent selection on a menu and tasty food, there are many more options in Blackrock and Dundalk.
Made with love by