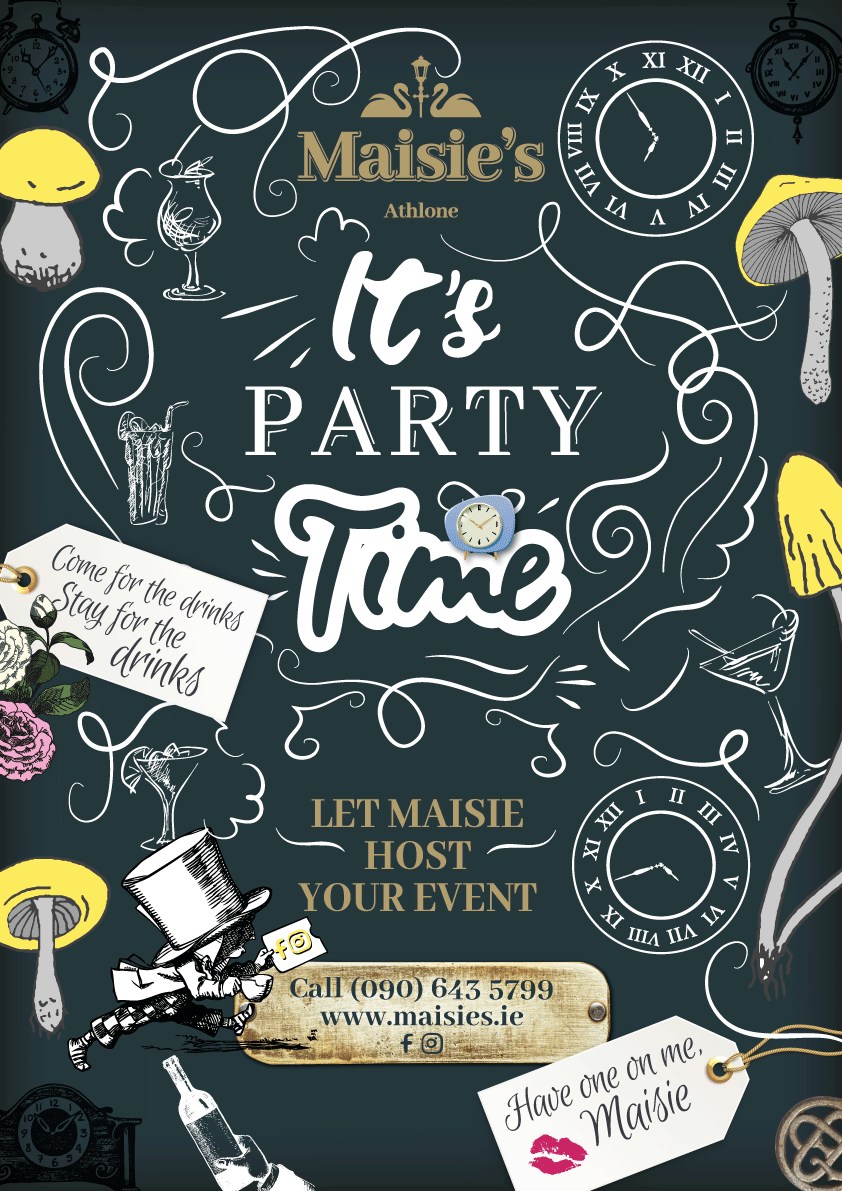 Booking enquires!
Join us for fun & frolics in my fabulous bar, please fill in the form below.
Average restaurant Myself and my wife popped in for a quick lunch. We had a chowder and a pulled pork sandwich, both of which were fine. It was an average meal. The bill annoyed me as a 10% service charge was added. I always add something as a tip and when I saw the bill, I was paying by card and asked the waitress to round the bill up by an amount which was just over 10%, I then saw that the 10% charge was included and to be fair the waitress asked did I want to leave my tip off, I didn't, so I ended up paying over 20%. This habit really bugs me.

Food inedible Recently went with a group of 13 work colleagues and was extremely disappointed in the food here, after hearing who owns the property I was sure you would at least get a decent steak but this was not to be. The steak tasted of salt not just that the chef has over seasoned it but more like he tried to cure the steak in it. Now after my starter also being awful I ended eating the celery from other people's dishes who had chicken wings I thought maybe it's me, maybe my pallet is off today but no all 3 people in our party said steak was bad resulting in them covering it in pepper sauce to mask the flavour of the salt.

This was not an option for me , I love a good steak and often would eat it without any accompaniments but here I was thankful for them or I would of went home starving as it was I left hungry.

Back to starter I ordered a chicken Cesar salad. The salad consisted of mostly wilted kale and no croutons and the chicken was burnt to a crisp. What was even more shocking was that when waiting staff seen a full starter being returned they didnt ask why.

Desert was and pear and almond tart that was in all fairness a credit to the pastry chef at last something I was able to eat and enjoy.

After travelling from Dublin I was extremely disappointed in this establishment and could and would not recommend it to anyone.

Lovely surprise We ate here a few weeks ago with friends that recommended it to us and I have to say that we had a lovely meal. We knew it was a steak house and our steaks were perfectly cooked. Not really for vegetarians as I have 2 daughters that are Veggies and wouldn't be taking them here.
Starters and Desserts were fab as well. Have recommended it to all our meat eating friends since our visit and hope to get back soon.
Decor lovely and staff were great
10/10 terrific

The Chairman's Room - simply amazing My wife and I visited the Chairman's Room upstairs in the Clermont last Saturday and it was simply amazing. This is basically a Michelin Star restaurant that no one has heard of. It seems primarily focused on beef which comes from the owner's farm. Let me tell you it's well worth a try. A rich amuse Bouche was followed by addictive sweet warm bread, simple and light starters followed by the main event which was amazing! The service is great with professional staff who know their wine's and gave us an excellent recommendation. 5 stars all the way.

Food was inedible The food is overpriced. No Smirnoff ice. Tiny portions. The beef sandwich I got was freezing I had to send it back so my partner ate his ribs ( 3 bites and it was gone it was that small ) while I was there with just chips and mayo. No garlic dip?? The food came back again but it was disgusting. This time round they had put the tiniest amount of crispy onions on it that wasn't on the first one that was supposed to be on it it was almost like an insult. The staff are lovely I feel sorry for them I don't think the table beside us were happy either. The nice lady host didn't charge for the wine as a sorry what else could she do. I read the reviews before going but I still wanted to give it a chance and was excited however I could never return. They don't seem to want to improve judging by the other reviews. I left starving after paying 35 Euro so we went to rocksalt cafe and thankfully they saved the day.

Passed through Blackrock Village Passed through Blackrock Village during a family "Staycation" and stumbled upon this hidden gem. Money well spent by the owners and the staff were friendly and welcoming. We felt safe and the kids ran around in the garden while we enjoyed Mussels and the Beef Striploin. It was a great part of our trip!
Made with love by