What to expect when you arrive in Maisies
All staff have completed and received certifications for the IACT 'return to work safety course'.
Increased cleaning schedule throughout the venue.
Increased frequency of handwashing by staff at timed intervals.
Accessible hand sanitisers dispenser stations.
Social distancing signage.
Reduced furniture layout to reduce tables and distance.
Designated routes to the bathrooms. Increased bathroom cleaning.
Cashless payments where possible.
To best protect our customers and staff from the spread of COVID-19 please follow our advice and in house procedures and supply contact tracing information on arrival.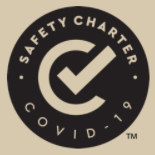 COVID-19 FAQs
Do we have to book?
Yes, we encourage advance bookings. However, walk-ins will be accommodated where possible.
Can we stay for more than 2 hours?
We will endeavour to work to Government guidelines and all requests will be accommodated where feasible.
Will we be able to move to a new area for two hours?
Under the current guidelines, no.
If we book for 7-8 people will we have to use two tables?
Yes, unless you are part of one family.
Can we just have drinks?
Yes, just drinks is just fine!
Can you still offer cocktail classes?
Yes, we are in the process of setting up a pre-packaged cocktail masterclass under the current guidelines.
How will finger food be passed between guests?
We are not serving finger food at the moment.
Can we still use drinks tokens?
Yes!
We would love to hear from you!

The new Clermont Restaurant We recently tried out the New Clermont Restaurant, with our friends. We had a drink in the bar while we waited for our table. The young guy that served us our drinks was so welcoming and friendly. We were shown to our table in the restaurant, and the girl went through the menu in detail explaining everything, very helpful. Our meal was beautiful from starters, main course and deserts. The decor throughout is beautiful. Overall a very good experience, looking forward to our next night out in The Clermont.

Lovely surprise We ate here a few weeks ago with friends that recommended it to us and I have to say that we had a lovely meal. We knew it was a steak house and our steaks were perfectly cooked. Not really for vegetarians as I have 2 daughters that are Veggies and wouldn't be taking them here.
Starters and Desserts were fab as well. Have recommended it to all our meat eating friends since our visit and hope to get back soon.
Decor lovely and staff were great
10/10 terrific

Average restaurant Myself and my wife popped in for a quick lunch. We had a chowder and a pulled pork sandwich, both of which were fine. It was an average meal. The bill annoyed me as a 10% service charge was added. I always add something as a tip and when I saw the bill, I was paying by card and asked the waitress to round the bill up by an amount which was just over 10%, I then saw that the 10% charge was included and to be fair the waitress asked did I want to leave my tip off, I didn't, so I ended up paying over 20%. This habit really bugs me.

Beautiful surroundings - food needs to improve Made a last minute booking for Saturday evening.....restaurant is decorated beautifully, no doubt about it. We were brought to table but I could not say we were greeted warmly by what seemed the senior waitress. The menu was more expensive than I expected for Blackrock but I would not have minded if food had matched the price. We had seafood chowder, it needed better mix of fish, crab claws, think the portion was 7, not enough for price & bruschetta which was tasty but too expensive @ €10 ..... like seriously!
Followed by carbonara was very poor, couldnt eat it. Steak pizza which I think cost €18 but I had to look for pieces of beef on it & there was too much coriander. Fish & chips was fine, but hey can u go wrong cooking that. Overall we said we were glad we tried it but we wouldnt rush up again.....well not until they introduce an early bird for diners willing to eat at 5 or 6pm.

We had dinner here Saturday We had dinner here Saturday night. Food was delicious. I had salmon and my friend pasta. Lovely atmosphere and surroundings. Staff attentive and efficient. Definitely recommend a visit and I hope to return.

Needs Service Improvements I have visited this location once for a family event. Sadly I won't repeat this. Brought family members here for Sunday lunch, as I have done many times when occupied by previous owners.

I am taking into consideration the teething problems as new staff learn where things are, but hey the customers are at the tables that's all that's important. What I experienced was the most disorganised display of table service I have ever witnessed. The number of inexperienced floor team is simply too concentrated and there is no leader.
Too much to rant on for one discrete experience so summarised below.
[This is feedback for management not individual staff members]

Stop
Staff walking through restaurant with open laptops, and setting down on customer seating to work. This is our dining experience, not your office.
The insane process where food is carried down from kitchen area on a huge tray and both nowhere to set it down, and staff to relieve the waiter of the dishes. This for me was the most telling of what was going on here, great effort put into decor, but nobody has checked how this current space can serve food effectively. Terrible lack of process.
Collecting glasses from table when not finished, please help the staff understand how little or often this is needed.
Bringing out the soup and main course at same time. No apology as simply inexperienced staff did not suspect anything wrong with this.
Service charge. Increase your dish prices if need be, as the food is tasty, but your service is extremely under par.

Start
Hiring an experienced staff member that can build a team into a min level of organisation.
Ensuring proper table management that parties of people can sit together, joining large round tables together does NOT count especially when restaurant half full.
Following up after each course for the next, ensure customers don't have to chase down your staff for tea/coffee/desserts. Staff not confident in approaching tables to do this.
Team needs to communicate - Your staff all have mics, but they don't communicate effectively. This is evident when we have to ask for service repeatedly.
Sunday lunches have a certain min expectation nationally. I'm happy to eat gnocchi on a Sunday, but you need a menu to appeal for folks who require more traditional dining.
Portion sizes are particularly small across the whole menu, this is quite noticeable and is sadly unnecessary on sides.

Continue
To deliver nice tasty dishes.
Invest in the local area.

Terrible - service, process and management of same.
Average - tasty, but dishes small and menus extremely limited.
Rating - Poor
Made with love by